Looking for a tree service Russellville property owners? Arkansaw Tree Service is the solution to your tree trimming and tree removal needs. Our experienced team of tree experts have been serving Russellville for decades and providing our local community with the best prices and quality tree removal service possible. If you need an estimate on tree trimming or tree removal services in the Russellville area, give us a call. We will send out a member of our team at your convenience to give you a no-pressure estimate on tree trimming or tree removal. We look forward to hearing from you.
Why Choose Arkansaw Tree Service?
Experience – We are veterans in the tree removal industry. It would be challenging to find another tree service that has more collective experience than the team of tree service professionals at Arkansaw Tree Service. Performing tree removal and tree trimming services is just like anything else, the more time you spend doing something, the more skilled you become at performing that task. It goes without saying that cutting down trees has the potential to cause serious harm to you or your property. Hiring inexperienced tree removal companies increases the likelihood of something going wrong during a tree removal project. We take great pride in our wealth of knowledge and experience we have been able to accumulate over our years in business. Arkansaw Tree Service has the experience you need your tree removal company to have in order to prevent injury or damage your property.
Pricing – You will find that Arkansaw Tree Service has competitive pricing. Our prices are in line with the other reputable tree services in the Russellville area. There are plenty of tree services that might quote you a lower price on tree trimming or tree removal, but you have to think about what you are paying for when you hire those types of companies. Do they have the experience needed to avoid risking injury to you or your property? Are they insured? Are they going to quote one price, but then try to charge another? Arkansaw Tree Service has a long track record of providing honest, accurate, and affordable quotes for tree services. If you live in Russellville and need a great price on tree removal or tree trimming, we are the right company to call.
Professionalism – We go to great lengths to find the right people to join our team. We carefully choose individuals that we know will only treat our customers with the highest level of respect and courtesy. When you work with Arkansaw Tree Service you can rest assure that you will have an outstanding customer experience. We will always treat our customers how we would like to be treated.
Reputation – We are proud of the reputation we have been able to build over our many years in business. Our reputation is due to all of the things we have mentioned previously on this page of our website. Our professionalism, pricing, customer care, and experience have allowed us to build an impeccable reputation in the local community. We encourage you to look at our companies reviews online to see what our past customers say about our company. We're sure if you read their reviews you will know that we are the right company to hire for all of your tree removal and tree trimming needs.
What Are Some of the Services We Provide?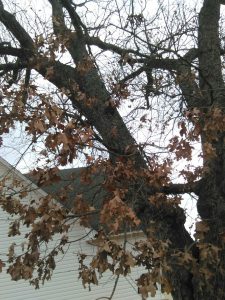 Tree Removal – There is no tree too big and no tree too small for our tree removal company. Our company and all of our team members are truly tree removal experts. We remove trees ranging from small Trident Maple trees that only reach heights of 20 feet all the way to enormous White Oak trees that can reach heights of 100 feet tall. The Russellville area is home to a wide range of species some of which can live for hundreds of years. We have experience removing all species of trees that are in the Russellville area.
If you need assistance evaluating the health of your tree so you can decide whether or not you would like to have the tree removed, we will be able to help you assess the overall condition of the tree. We understand that some people simply want to have a tree removed to make their property look more appealing. However, there are other instances when Russellville property owners have been concerned that a tree is dying so they naturally make the decision to have the tree removed. However, tree removal may not always be necessary. Trimming away dead branches or thinning out the tree can allow a tree to supply nutrients to parts of the tree that can still thrive. We will always leave the decision up to you whether or not the tree is removed, but we will give you the information you need to determine whether or not the tree can continue to live. Arkansaw Tree Service is simply the best company to call for tree removal in Russellville Arkansas. Call us today to schedule your tree removal quote or tree removal service.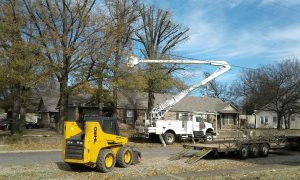 Tree Trimming – Arkansaw Tree Service is the best tree trimming company in the greater Russellville area. We have in-depth knowledge about all the individual tree species found in the Russellville area. We can remove all of the branches that need to be removed from your trees so they can continue to grow. Additionally, when we remove tree branches, the tree is less likely to fall because wind can pass more easily through the canopy. Tree trimming is an essential part of keeping trees healthy, and protecting your assets from harm. We have the ability to safely trim tree branches in trees of all size.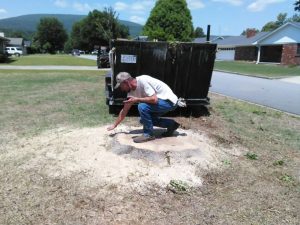 Stump Removal – When you're having a tree removed from a property, you should also have the stump removed. Some tree removal services do not provide stump removal services because it is too time consuming to remove the stump or they do not have the proper equipment. It's important to remove the stumps of trees from your property and not just because they can be an eyesore. Tree stumps are a perfect habitat and home for termites. Paying a little extra money to have a stump removed from your yard can prevent you from getting thousands of dollars worth of termite damage. Arkansaw Tree Service has affordable prices on all stump grinding and stump removal services.
Arkansaw Tree Service Is The Right Choice
At Arkansaw Tree Service in Russellville AR, we are confident that you will use us for all of your tree service needs after your first experience. We have helped many clients around the area and look forward to earning your continued business as well!
We are your go-to source for professional tree service. Our experienced and knowledgeable team is dedicated to providing quality, reliable, and safe tree service. Our many happy clients are a testament to the quality of our services and our commitment to excellence. Choosing Arkansaw Tree Service for your tree service job in Russellville AR is a great idea.
Here's a few reasons why: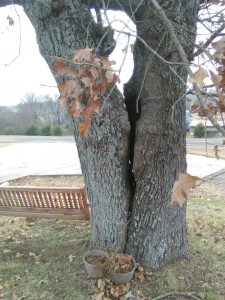 Experience – Arkansaw Tree Service has been in the business for many years, and their team of professionals is well-trained and highly experienced in all aspects of tree care. They have dealt with a wide range of tree-related issues and are well-equipped to handle any job, big or small.
Quality Service – When it comes to tree care, Arkansaw Tree Service prioritizes quality above everything else. They take the time to assess each tree's specific needs and provide tailored solutions accordingly. Their attention to detail ensures that your trees are in the best possible hands.
Safety First – Tree service jobs can be dangerous if not handled properly. However, with Arkansaw Tree Service, you can have peace of mind knowing that they follow strict safety protocols. Their team is trained to prioritize safety at all times, ensuring that both your property and their workers remain protected throughout the process.
Competitive Pricing – Arkansaw Tree Service understands that affordability is important to their customers. They offer competitive pricing without compromising on the quality of their service. You can trust that you'll be getting the best value for your money when you choose them.
Customer Satisfaction – Customer satisfaction is at the core of Arkansaw Tree Service's values. They strive to exceed their customers' expectations by providing exceptional service and delivering results that leave them happy and satisfied. Their commitment to customer satisfaction has earned them a great reputation in the industry.
So, if you're looking for a reliable and professional tree service provider, Arkansaw Tree Service is definitely the way to go! With their experience, quality service, safety measures, competitive pricing, and dedication to customer satisfaction, you can't go wrong. Give them a call and see how they can help you with your tree service needs.
Schedule Your Tree Removal Estimate
Call Arkansaw Tree Service to schedule a time to get your tree removal or tree trimming estimate. We have the best prices you will be able to find from a reputable and experienced tree service in the Russellville area. We look forward to earning your business and showing you why we are the best tree service Russellville has to offer. Call us today.