Arkansaw Tree Service is the best company to call for tree removal and tree trimming services in Van Buren AR. Call us today to schedule your tree removal or tree trimming estimate. This page of our website has a lot of information about Arkansaw Tree Service and why we are the best local tree service to hire in Van Buren. Read more below or call us now to schedule.
Reputation
Arkansaw tree service has maintained an outstanding reputation over our many years in business. Each member of our Van Buren tree service team works hard to meet the needs and exceed the expectations of our clients. That is just one of the reasons our tree service has been able to build and maintain such a solid reputation over the years. Every process we have put into place is centered around creating an optimal experience for every customer. Because we consistently put our customers' needs first, it is easy for us to maintain a positive reputation. We take great care of our customers and in return our customers take great care of our company.
Experience & Quality of Service
Arkansaw Tree Service has the most experienced tree removal team members in Van Buren. Our tree removal team members have decades of experience. When it comes to tree service projects, you need to hire the most experienced tree service possible. Experienced tree service companies will be able to complete a tree removal or tree trimming project without putting you or your property at risk. It goes without saying that a tree has the potential to cause a great deal of damage to you or your property. Arkansaw Tree Service cares about your safety and the safety of our team members. Arkansas is home to a wide range of tree species such as: Elm, Maple, Hickory, Ash, Walnut, Cedar, Oak, Cypress, Cottonwood, Mesquite, Pine and more. Our tree removal company has extensive experience dealing with each of the almost 200 species of trees in Arkansas. Some hardwood trees are more prone to becoming hollow which makes them far more dangerous to remove. Our team has the knowledge, experience, and equipment to remove even the most dangerous trees with ease. All of the members of our tree service team take great pride in the work they do. When we perform tree removal services on a Van Buren property, we do everything we can to leave your property just the way we found it, minus the tree of course. When you hire Arkansaw Tree Service, you can trust that you are going to receive the highest quality of tree service possible.
Prices
The price we charge for our services is the biggest factor property owners take into consideration when hiring our company. That is why Arkansaw Tree Service has some of the most competitive prices on tree removal and tree trimming services in the Van Buren area. We feel like everyone should be able to have the highest quality of tree removal and tree trimming services possible. The price we charge for our services should not exclude anyone from using our company. When you hire Arkansaw Tree Service you will be getting the highest possible quality of service at the lowest price possible. If you want a competitive quote for tree removal and tree trimming services in Van Buren, call us to schedule your estimate today.
Services We Offer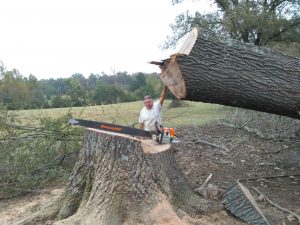 Tree Removal – Arkansaw is the leading tree removal company in the greater Van Buren area. We are well known for our ability to safely remove trees of all size. It is better to remove potentially dangerous trees from your property before they have the ability to cause serious harm to you, your property, or even your neighbor's property. When you call Arkansaw Tree Service we will assess the tree's condition, make a plan for the tree removal, provide you with a free estimate, and then schedule a time to remove the tree. We have streamlined the tree removal process as much as possible. We can have your tree If you are ready to get the tree removal process started, give Arkansaw Tree Service a call today.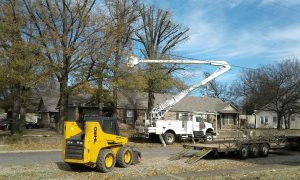 Tree Trimming – Our tree service helps commercial and residential properties in Van Buren remove branches from some of the largest trees in the state. Trimming a tree with dead branches can help a tree divert nutrients to the other parts of the tree which still have an opportunity to thrive. Additionally, trimming a tree can make a tree look much better. The most common reason we are hired for tree trimming is to remove dangerous branches that are hanging over a structure. If you have large branches you feel pose a risk to your property or own safety, do not delay. The sooner the branches are removed, the less of a risk they will pose. Call our tree trimming service so you can get a free tree trimming estimate.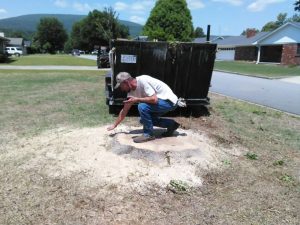 Stump Grinding – After a tree is cut down, you're left with an eyesore of a stump in your yard. Stumps are not just an eyesore, but they also attract insects that can cause property damage such as termites. Mowing around them is not much fun either. Getting rid of a stump is not as easy as you may think. Anyone who has ever tried to remove a stump on their own knows how hard it is to get rid of a stump. We have heard a lot of creative methods people have tried to get rid of stumps. Our professional tree service is an expert at removing stumps. If you're ready to get rid of stumps on your property, call Arkansaw Tree Service.
Why Tree Service For Your Van Buren Home or Business Is So Important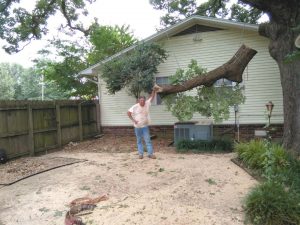 Tree service is important in maintaining a healthy and clean landscape for several reasons. Firstly, trees play a crucial role in the overall health of our environment. They help to purify the air by absorbing carbon dioxide and releasing oxygen, which is essential for our well-being. By maintaining trees through regular tree service, we can ensure that they continue to thrive and provide us with clean and fresh air.
Additionally, tree service helps to prevent any potential hazards that may arise from unhealthy or damaged trees. Regular maintenance, such as pruning and trimming, can help to remove any dead or weak branches that have the potential to fall and cause harm. By taking care of these issues proactively, we can ensure the safety of our surroundings and prevent any accidents from occurring.
Furthermore, tree service is essential in maintaining the aesthetic appeal of our landscapes. Well-maintained trees can greatly enhance the beauty of our surroundings, adding color, texture, and depth to any outdoor space. By regularly pruning and shaping trees, we can create a visually pleasing landscape that adds value to our property and creates a welcoming atmosphere.
Lastly, tree service plays a vital role in the overall health and longevity of trees themselves. By providing regular care, such as fertilization and disease prevention, we can ensure that trees remain strong and resilient. This not only benefits the trees themselves but also helps to preserve the overall biodiversity of our environment.
Overall, tree service is crucial in maintaining a healthy and clean landscape. From purifying the air to preventing hazards and enhancing the beauty of our surroundings, it plays a significant role in preserving the overall well-being of our environment. So, let the experts at Arkansaw Tree Service take care of your trees to keep your Van Buren home or business looking beautiful for years to come!
Call Us Today
Arkansaw Tree Service is the best company to hire in Van Buren for tree removal, tree trimming, stump grinding and all other tree related services. No project is too big or too small for us. Please feel free to give us a call if you have questions about tree services or if you would like a quote on tree services. We look forward to working with you.