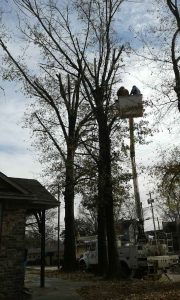 Arkansaw Tree Service offers some of the finest tree services in the Danville, AR area. We have been serving Danville since 1984. Whether you need a tree trimmed, a stump removed, or you just want a regular tree inspection, we can help.
Tree service is a specialty that needs to be done by certified professionals. They can help prevent damage to your property as well as keep your family and vehicles safe from falling limbs and other debris. That is why when Danville residents need tree service they can trust, they turn to Arkansaw Tree Service. We offer emergency services as well and are available 24 hours a day, 7 days a week.
We specialize in all varieties of tree services, including tree cutting, stump grinding, pruning, and tree removal. We are proud of our many satisfied customers across the Danville area. A locally owned and operated tree service company that has been in business for over 37 years, we are a licensed, insured, and bonded tree company that is dedicated to providing the best possible tree services at a fair price. We provide tree services for both residential areas and commercial lots.
Tree Removal in Danville, AR
When you need a tree removed, our professional tree removal service is the answer. We can remove trees from your property quickly and safely, whether it's a small tree or a large tree. If you have a tree that needs to be removed, we will bring the right equipment for the job to ensure a safe and fast tree removal. Depending on the size of the tree, we also offer stump grinding and stump removal if necessary. Contact us today to learn more about our tree removal services. We understand that trees don't fall only when it's convenient. That's why our Danville tree service company can be reached 24/7 for emergencies when you need a tree removal. Our tree service crews are experienced and fully insured and ready to help you with tree removal any time, day or night.
Tree Care and Maintenance in Danville, AR
Tree trimming, fertilization, pruning, and stump grinding are all part of the tree care and maintenance services provided by Arkansaw Tree Service. We will keep your trees healthy and happy.
Tree Trimming in Danville, AR
When it comes to tree trimming, there is no better professional tree service expert than Arkansaw Tree Service. We provide a fair estimate and will clean up the area afterward. Contact us now to find out more about how we can help you with your tree trimming needs.
Pruning in Danville, AR
When your tree needs a little pruning, contact Arkansaw Tree Service for a free estimate. We can remove dead or dying branches as well as any other unwanted tree limbs.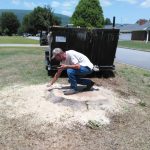 Stump Grinding in Danville, AR
After a tree is removed, Arkansaw Tree Service's tree service doesn't end there. Using the finest equipment, we can grind and remove the stump. We will do this safely and with minimal damage to the surrounding area. We can also come to your home or business and remove a stump that has been there for months, years, or decades. A stump with a deep root system can be a hazard to those walking, running, or playing around it. It is also an eyesore and having it removed will make the outside of your home or business looking much better.
Call us today. (479) 739-7753.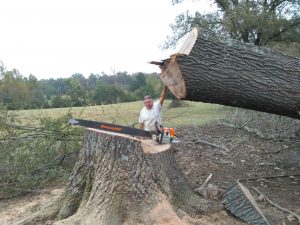 Arkansaw Tree Service hopes that we will be able to fulfill your tree service needs. We have affordable pricing and can meet any budget. We provide expedient and worry-free tree service to every customer, which allows us to complete more tree service jobs in a shorter time. By doing this, we can charge less than the other guys and still provide you with a full, positive experience.
Safety, Satisfaction and the Environment are the top priorities at Arkansaw Tree Service. We know that our customers expect a professional, friendly experience from us each and every time they hire us to perform a job. It's why we go above and beyond for our customers to ensure that their trees are taken care of in the safest and most efficient way possible. Trees provide a natural beauty to any property, which is why it's important to know how to take care of them. A tree is a living thing, so it needs to be treated as such. The experts at Arkansaw Tree Service has the knowledge and know-how to provide your trees with the specific care required for your situation.
In conclusion, we can help you with all your tree service needs, just as we have countless other Danville residents since we started Arkansaw Tree Service, all the way back in 1984. If you need emergency tree removal, our team of professionals can be reached any time of day or night. Whether it's a small tree or a large tree, we can remove it. Our Danville tree service company is ready to help you with any and all tree service needs you have.