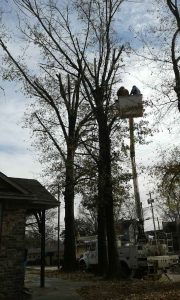 Thank you for taking the time to consider our Ozark tree company. The qualified professionals at Arkansaw Tree Service make it their daily priority to provide each client with a complete tree service that is both without stress, and over quickly. We pride ourselves in offering the best tree service in Ozark AR, as well as customizing each project to your needs and budget. We are committed to providing both sufficient tree care for the trees around your Ozark home or business, as well as ensuring their safety in the event of a storm or other situation. By keeping your trees healthy and maintained, you can avoid costly emergency calls in the future. In the event of a storm or other event that has cause an issue that needs to be repaired immediately, we are happy to provide 24/7 Emergency Service to all Ozark AR residents.
We have become a tree service that the residents of Ozark AR relies upon. By offering a complete line of tree services, we have the equipment and know-how to take on any project, from landscape and tree preservation and reconstruction, to tree removal, stump removal, stump grinding and more. By keeping up to date on the latest techniques and safety standards, we have the ability to provide you a dependable result that will have become clients, and friends, for life. Find out why Ozark AR has come to rely on a local tree service company like Arkansaw Tree Service to offer them friendly and professional tree service they can rely on every time.
Advantages of our Ozark AR Tree Service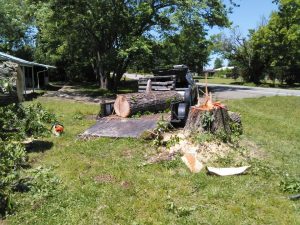 When you receive tree service through Arkansaw Tree Service, here are just a few of the advantages you can expect to enjoy from a competent and professional company like ourselves:
Maintaining the Health of the Tree – When providing tree maintenance services, multiple techniques are employed to ensure the tree is trimmed and pruned properly. This includes the removal of dying and damaged limbs and branches, from both elderly trees and those only recently planted in the past few months or years. When a tree is properly pruned, it keeps down the chances of an insect infestation or local fungi using the weak parts of the tree as a way to create havoc through the entire system of the tree. We will maintain a proper limb balance that keeps the right amount of sunlight and air reaching where it needs to, keeping the tree healthy for a long time to come.
A Tree's Structural Integrity is Important – When a tree is young, a purposeful pruning can be performed that will keep the tree growing strong, and in the direction and location you want it to be. By guiding the tree where we want it, through its life it will stay healthy and structurally sound in the event of high winds or worse. With our tree service, you can save thousands down the road in the event an unkempt tree partially or completely falls on your property, creating damage and injury of all sorts.
Keeping Up With A Tree's Natural Beauty – When planting a tree, especially in a commercial setting such as a business park or restaurant, keeping it maintained throughout its life is an important part in the outdoor upkeep. We will keep it growing in a way that is conducive to your environment, allowing the tree to shine as a beautiful contribution to your property.
Storm Safety – Like mentioned above, having a strong base and properly pruned tree can keep your property safe during a strong Ozark storm. With the thunderstorms we get, we know the importance of knowing your property will be safe when, not if, we get our next intense storm warning. By removing the danger of falling limbs, and low-hanging branches that could interfere with vehicles and pedestrians, we keep those visiting your home or business as well as you and your family safe.
Brighten Up Your Landscape – A yard with pruned trees and trimmed bushes keeps your property value up, and highlights the beauty of the entire landscape. You'll be able to maintain privacy where you need it, and elegance where desired.
Tree Removal Ozark AR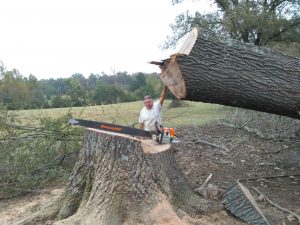 Often in the tree service industry in Ozark AR and across the nation, the word tree removal can be considered a dirty word because we try our best to ensure the health of every tree that has made it this far is maintained and protected. We realize that at times there are conditions where tree removal becomes unavoidable. Either due to structural damage, safety issues, or just plain ol' old age, the reasons are many to come to the conclusion that tree removal is necessary. We have extensive knowledge on the fauna of Ozark AR and will provide you with both a cost-effective and safe answer to your tree removal needs.
Stump Grinding Ozark AR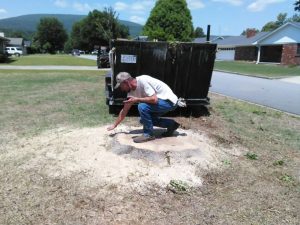 When a tree removal is performed, especially by the property owner, the stump is left there, usually pretty close to ground level. This is the easy, cheap way to handle the removal of a tree, but it's not the only or most visually pleasing option. The exposed root of a dead tree creates both an unnecessary blemish on your property, but under certain circumstances can create a hazard for you or your lawn equipment. Let us take care of the stump right by grinding it out, leaving you with a blemish-free landscape for your home or business.
Here at Arkansaw Tree Service, we firmly believe that we offer the finest tree service in Ozark AR, for every client. On top of this, we offer competitive pricing, and are available for emergency service 24 hours a day, 7 days a week. Give us a call and speak with a tree service expert today so we can begin to work together in creating a functional and beautiful landscape for your property.
Call us today for any tree service in Ozark AR you need!
The finest tree service in Ozark AR.
(479) 739-7753