Are you looking for the best tree service Clarksville Arkansas has to offer? Our entire team at Arkansaw Tree Service is ready to show you why we are one of the most popular tree services in Clarksville. There is no job too big for our tree service. We are able to safely and efficiently remove or trim trees of all sizes. Read more about the services we provide and our company below or call us today to schedule your tree trimming or tree removal service.
Who is Arkansaw Tree Service?
Experience – We acknowledge that there is a direct correlation between the level of experience a tree service professional possesses, and our customer's overall satisfaction. Arkansaw Tree Service company is comprised of a team of seasoned tree removal experts who are committed to providing all of our customers with the best overall experience possible. Almost all of our team members have decades of experience in the tree removal and tree trimming industry. However, we do not just choose our team members based upon their level of experience.
Professionalism – Arkansaw Tree Service has gone to great lengths to hire individuals that consistently maintain the highest level of professionalism. We always treat people how we would like to be treated. Honestly, there is nothing worse than hiring a company and being nervous about who may arrive on your property. When you choose to hire Arkansaw Tree Service for your tree trimming or tree removal services, you can rest assure that the highest caliber of tree service professional will arrive to your Clarksville property.
Reputation – Arkansaw Tree Service will always be looking for ways to continue to improve the quality of service we provide to our customers throughout the Clarksville area. We do our best to follow up with our customers after a job is completed so we can get feedback. That's because we want to make sure the quality of services we provide has exceeded your expectations. Due to our commitment to providing you with the best overall experience possible, our tree removal company has consistently maintained an impeccable reputation over our many years in business. When you want to hire a reputable tree removal or tree trimming company in Clarksville, look no further than Arkansaw Tree Service.
Our Prices – It's easy for a tree service to say they have the best prices. It's much harder for them to back up their claims of having the best prices for tree removal services. It's impossible for any one tree service to know what all the other local tree services will quote on particular project. Instead of saying we have the lowest prices we prefer to say that our prices are competitive when compared to other reputable local tree services. The old adage, "you pay for what you get" is certainly true in the tree service industry. There are plenty of individuals that have little to no experience that will be willing to charge prices that are significantly lower than reputable and experienced tree removal companies such as ours. Keep in mind what is at stake when you hire an inexperienced tree removal company because they have lower prices. Tree removal is a dangerous job that can lead to serious property damage, injuries, or even death. The more inexperienced a tree removal company is, the more likely they are to make life threatening mistakes when removing a tree. Their prices may be lower, but those prices are not worth the risk. If you receive a quote that is significantly lower than other bids, you should make sure the company has proper insurance and the experience necessary to safely remove a tree. Our company firmly believes in honest and transparent pricing. Arkansaw Tree Service will always provide our customers with an accurate and competitive price for tree removal or tree trimming services.
Our Services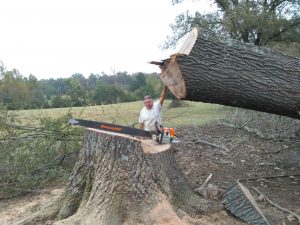 Tree Removal – Arkansaw Tree Service is most well known for our tree removal services. That is because we have the experience and equipment necessary to safely remove trees of all sizes from commercial and residential properties. Clarksville Arkansas has some species of trees that can reach over 100 ft in height. Trees that height, require specialized equipment and most importantly the skill set to safely remove them. One example of a tree native to the Clarksville area that can reach heights over 100 ft is the Bald Cypress. The Bald Cypress is a relative of the Redwood tree which is not surprising considering their ability to grow to such towering heights. We have been fortunate enough to have procured a group of highly skilled tree removal experts within our company. Each member of our team understands exactly what their responsibilities are when they are on-site at a tree removal project. Due to the level of experience our team members have and how long they've been working together, they are able to complete jobs efficiently without disregarding safety. Arkansaw Tree Service has safely removed trees that are in close proximity to homes and commercial buildings. No matter how big or small your tree may be, we have the ability to assist you with your tree removal needs.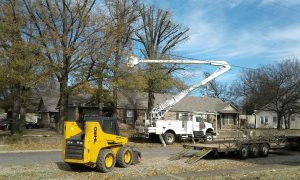 Tree Trimming – Tree trimming is a critical part of maintaining a tree's health and it can also be a way to avoid the more costly process of tree removal. When branches start to die on a tree, the tree will divert nutrients away from the rest of the tree to attempt to keep those branches alive. If those dying branches are not trimmed, it can lead to other branches dying on the tree. When dead branches are trimmed, the tree will start to send nutrients to the rest of the tree so it will be more likely to thrive. However, over-trimming a tree can cause a tree to have difficulty recuperating after it has been trimmed. There are some instances when a tree can die if it has been trimmed too much. Arkansaw Tree Service has an in-depth knowledge of tree health. We will safely trim trees on your property without jeopardizing the health of the tree. When you need tree trimming services, we are the best company to call for affordable and professional tree trimming services.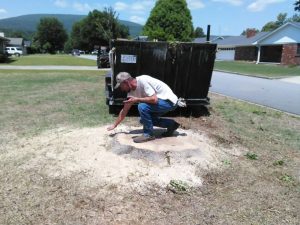 Stump Grinding – Once a tree is removed, it is important to have the tree stump removed as well. A lot of tree removal services will not remove the stump once they have completed the tree removal portion of a project. When you pay a little extra to have a stump removed can save you a lot of money in the long run. That is because stumps are more than an obstacle in your yard or an eyesore. Stumps attract insects such as termites that can cause structural damage to your home. As a matter of fact, stumps are one of termite's favorite places to build a nest. Unfortunately, most people don't know they have termite damage to their home until it is extensive. The average amount of time it takes for termite damage to be noticeable by a property owner ranges from 3-8 years. The average amount that a property owner pays to repair termite damage is $3,000. No one likes to spend extra money when they don't have to, but spending money on stump removal will save you money in the long run. Arkansaw Tree Service offers stump removal services to residents and property owners in the greater Clarksville area.
Call Us Today
Arkansaw Tree Service is your best source for tree removal, tree trimming, and stump removal services. We are looking forward to giving you a no-pressure estimate on your tree related services. Call us any time to schedule your free estimate so we can get the process started. We look forward to working with you.