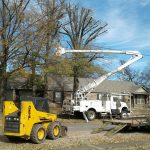 The experts at Arkansaw Tree Service of Paris AR are ready and willing to help you with any tree service situation that has arisen. From Tree Trimming, to Tree Removal, Stump Grinding, and everything in between, the tree experts at Arkansaw Tree Service have you and your family covered.
Tree Removal Paris AR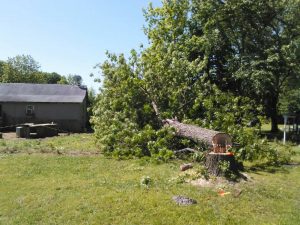 Very few people enjoy removing a tree from their property. It can be an extraneous feat and brings along with it many hazards and possibilities for injury. When a tree becomes unsteady, and is in danger of causing property damage or personal injury, tree removal can be the only option.
At times, if a tree is just unhealthy it can be saved by our team of tree experts, but this is not always the case. If a disease has taken control of a tree, we will remove it safely and properly. We pride ourselves on your extensive knowledge in maintaining tree health but when it is inevitable and even our expert services are unable to contribute to its restoration. In this situation we take charge and execute the job in a timely fashion, with the highest standard of professionalism and care.
In certain cases, amidst any other option to save or relocate the tree, we will remove sick and dead trees. Having a tree removed can assist in balancing lighting and space needed for other bushes and smaller trees to thrive and stay healthy. When building a new addition to your home, or perhaps a new deck or patio, sometimes a tree has to be removed to allow for this construction to take place. In this event, we will take care of the tree and have your ground ready for the new construction.
When working in the tree service industry, the most hazardous situation we deal with is tree removal. You will see tree removal experts in the Paris AR area working in small areas to trim or remove a tree that is coming too close to the building, nearby power lines, or other areas that are sensitive for a number of reasons. When you need a tree removed, trust the experts at Arkansaw Tree Service to have it taken care of safely and professionally.
Tree Storm Damage Paris AR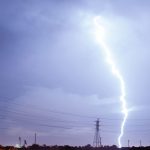 In the Paris AR area, we are no strangers to some impressive storms that find their way through our beautiful town. When we are enduring extreme temperatures and weather, it is important to make sure your trees are left undamaged and unharmed. Ignoring the warning signs of a damaged or otherwise compromised tree, can lead to a dangerous event such as a branch falling on a car or person, or when the conditions are right, even bring down the whole tree! If you have any questions about your trees, speak with an expert at Arkansaw Tree Service and we'll be happy to check it out for you and give you an experienced opinion. If a problem is found, we will explain to you your options and take care of the problem in short order.
Arkansaw Tree Service is the premier Paris AR tree company and we believe our expert arborists are more than able to handle your tree service needs. After a storm, we can get rid of any fallen trees or debris from your residence. Don't risk climbing on your roof when debris can still be wet after a large storm and cause something terrible to happen such as a slip on a wet leaf. Let our team climb up there and clean your roof of any leftover debris with a professional care that the residents of Paris AR have come to rely on.
Tree Trimming and more. We do it all! Call us today.
(479) 739-7753